Welcome to Garfield County
For All Emergencies Dial 9-1-1
Welcome to the Garfield County Sheriff's Office website. Here you will find information about the Sheriff's Office, Garfield County and its people, and the fine men and women who make up this great Sheriff's Office.
Our hope is that this website can be a great avenue of communication between your Sheriff's Office and the people of Garfield County.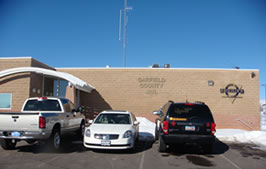 Sex Offender Registration
Sex Offender Registration is done at our office Monday through Friday 9-5 by appointment only. Please contact Denise at 435-676-1126 for appointments.
The Garfield County Sheriff's Office would like you to
BE A FRIEND.  
You can help with:
Threats
Bullying
Suicide Concerns
Weapons
Vandalism
Abuse
How to Help
Text 274637
using keyword: TIPUS
then your message
This text will be anonymous.